spring 2017
Table of Contents
Return to Home Page
Red Sarongs

Clementine

Chelsea Comeau
Scare

Taylor Supplee
Singing in Dark Times

Bhaswati Ghosh
First Loves in Brevoort Park

Body Analysis

Erin Hiebert
Aztlan Travels Emiliano Sepulveda
A Coke and a KitKat

Spenser Smith
Constantly Looking, Admitting Nothing

Paul Douglas McNeill II
Straight Waiting

Sugar le Fae
Ruler

Alyssa Cooper
Romeo, Romeo, WTF?

P.C. Vandall
To Kill a Fly

Beaton Galafa
box cars paper plates annie ross
We Could Have Called Him Joe, We Didn't

Juliane Okot Bitek
Dear Miss Parker

Dear Mama

Chelene Knight
from Electric Garden

Amanda Earl
from Glossary of Musical Terms rob mclennan
The Lady or the Tiger? Michelle Brooks
Prayer For Our Past Selves

Esther McPhee
Cambium

Daniel Barnum
Attention

Lindsay Miles
Inside My House

Gleaning Stones

Onjana Yawnghwe
Spring 2017 Issue Cover Art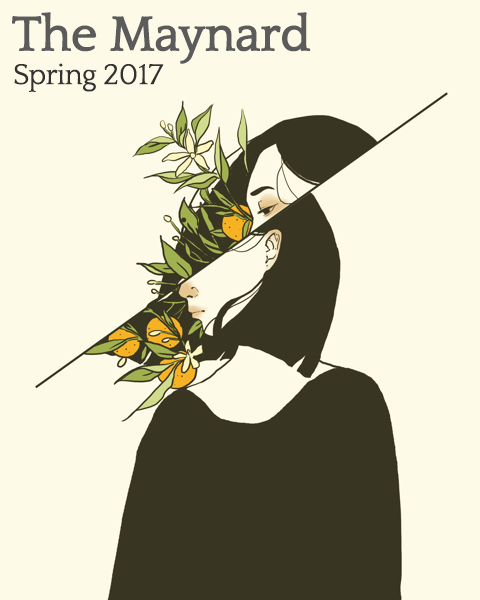 by Phuong Nguyen
As an Asian American artist, Phuong is always interested in what it means to make art as an Asian American artist. Phuong Nguyen currently practices in Toronto, Canada. She is primarily a painter and has completed her Bachelor of Fine Art at OCAD U in 2014. Nguyen is interested in people and the complexities of identity through the exploration of the human figure. Her ongoing bodies of work explores the contemporary identity of the Asian Canadian/American in the contexts of mass production, popular culture, colonialism, and orientalism.